MARCEE Minnesota Area R/C Electric Flight Enthusiasts Articles & Reports
Build it yourself Automatic Battery Dumper Controller
---
Here is simple and cheap to build automatic cutoff to monitor your batteries during intentional discharge. It will prevent you from forgetting about them and draining them completely past the safe minimal cell voltage. I came up with this after forgetting a couple of packs that were discharging and ruining one of them.
Note: I got this idea when Steve Pauley brought in a custom electronic one that you could set the # of cells & cut off volt per cell and let it go. This was one slick device, Steve thought that if there was enough interest the designer could get them made in bulk for about $60 -$70. I put my order in for one, if you would be interested drop Steve a note. stevepauley@worldnet.att.net
This one you can build is adjustable from 4 cells to 30 cells. Just remember that your normal bulb battery dumper is only good to about 15 cells, after that the voltage is too high and you will burn out bulbs. Either find another load or make a load up that has several pairs of two bulbs each wired in series.
The below discharge controller can be made with components from Radio Shack for about $10. It is a simple electrical / mechanical device. No fancy electronics. Its just what it is intended to be - "A Poor Man's Auto Battery Dumper Controller"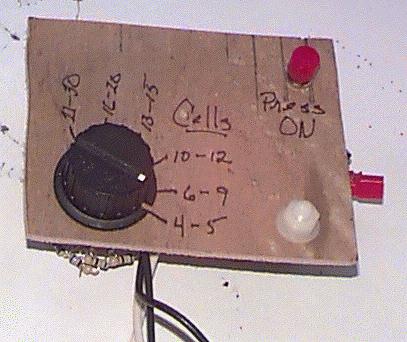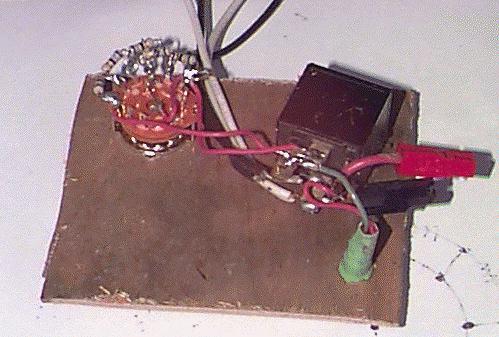 Fig #1 Photo's of My Controller - You can tell by my fancy mounting board that I spared no expense and spent hours of time on this project.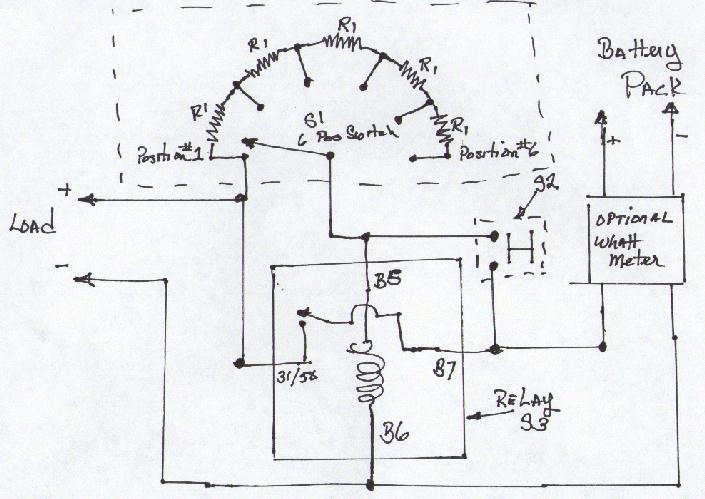 Fig #2 wiring schematic sorry only have the hand drawn schematic so far, remember its flying season.
The basic working theory here is that the momentary contact switch closes the relay using the full battery voltage. Then the relay is held closed by the feed back voltage from the load through the resistors setting a lower cut off voltage.
Relay load Information

Number of Cells @ Voltage

Best # of Cells

Switch Pos

Volts

=

Amps

Resistance

1.2

0.9

0.72

1

3.60

0.05

66.00

3

4

5

4 To 5

2

7.31

0.05

134.00

6

8

10

6 to 9

3

11.02

0.05

202.00

9

12

15

10 to 12

4

14.73

0.05

270.00

12

16

20

13 to 15

5

18.44

0.05

338.00

15

20

26

16 to 20

6

22.15

0.05

406.00

18

25

31

21 to 30
Fig #3 6 Position Discharge Table
S1 = Radio Shack #(any) Momentary Contact Switch 1 req'd
S2 = Radio Shack #275-1386a 6 Position Switch 1 req'd
S3 = Radio Shack #275-226 12 Volt Relay 1 req'd
R1 = Radio Shack #271-1106 68 Ohm resistor 5 pack 1 req'd
Fig #4 List of needed components from Radio Shack (Note do not substitute unless you know what your are doing electrically)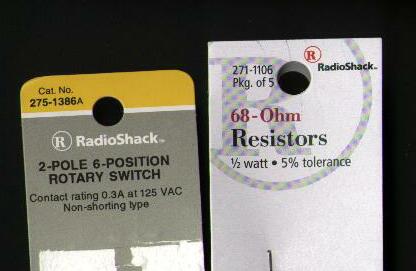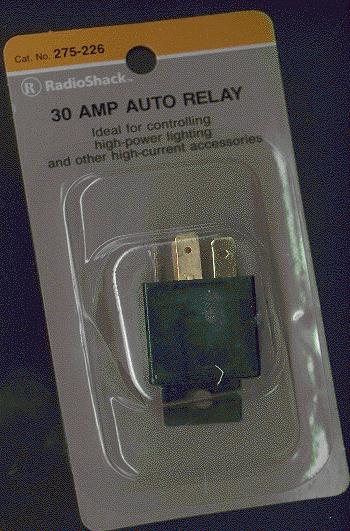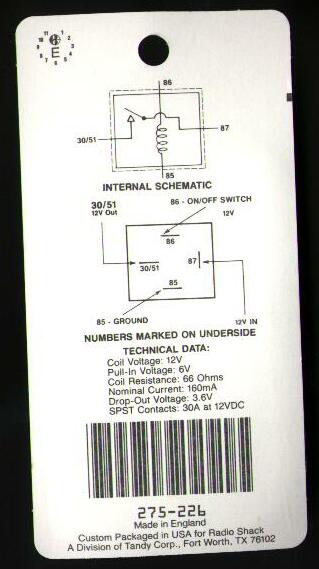 Fig # 5 Photos of Critical components.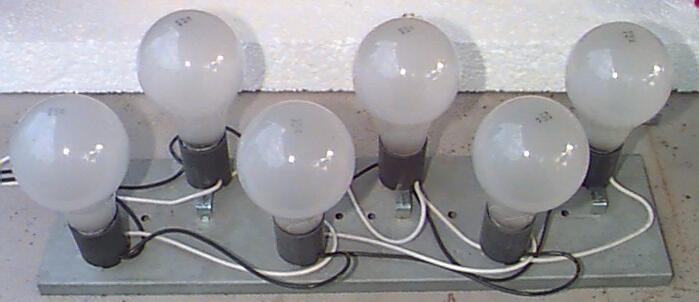 Photo of my Battery Dumper - I picked up a bathroom light fixture with six sockets at my local thrift store. I replaced the 120 volt AC bulbs with RV/Auto trouble light 12Volt 50 watt bulbs. I like this better as I can just screw bulbs in or out to get the desired amperage flow and they are easy to replace.